Evolutionary Midwife - Soul Connector - Life Master
Reiki Master - Crystal Adept
Teacher - Speaker - Artist - Dancer - Dreamer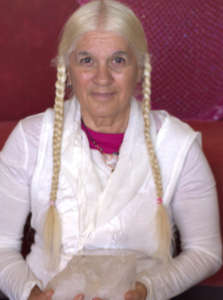 I am an Evolutionary Midwife, Soul Connector and Life Master as well as Reiki Master/Teacher and Crystal Adept. If you let me, I will be on your site with tools and presence to assist a smooth transition from one state of existence to a higher state of consciousness, the next step of your own evolution.
Born and raised in Germany, I have been learning and working with Energy most of my life. Formal education in the healing arts has come from Master teachers since 2007.
Spiritually, my teachers come from all walks of life and touch many areas. From Native American teachings and knowledge to meditation, sound healing, plain common sense, to mystics teachings, my life is dedicated to help you achieve your highest potential.
My passion for life runs deep, it extends to all of earth's inhabitants. I can help you find your way living life to the fullest while creating a sustainable future of peace and cooperation for all.
Free yourself from the bonds of fear and fully enjoy what you really love, be yourself in your highest, most alive expression.
For all of humanity to see through eyes of love, finding kindness, compassion and trust in a future that serves all of us is my goal and ultimate healing work.
Finding love and light in peace, unity, harmony, truth and freedom.
To walk in beauty, grace and ease! Mitakuye Oyasin!
---
My Schedule
Reiki Healing Circle - Online Event
2nd and 4th Sunday of every Month 2 pm PST
Please email to receive current information on the next circle.
Reiki Healing Circle - In person
Every 1st Saturday of the the month @ 3 pm PST at Crystal Fantasy in Palm Springs
Every 3rd Sunday of the month @ 2 pm PST at Crystal Fantasy in Palm Springs
---
For most of the year, you can find me Thursdays and Fridays at Crystal Fantasy in Palm Springs, CA
offering Reiki / Energy Expansions and Soul Connections.
Ask me for personalized services, private sessions, attunements, sound healings (Reiki Resonance), meditations and work shop facilitating